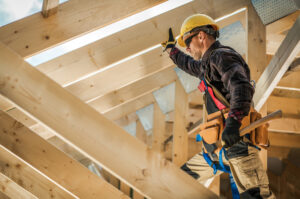 It's no secret Florida has stormy summers, complete with severe thunderstorms and torrential rain. That's because the Atlantic hurricane season typically starts on the first day of June and lasts through November, with the months of June, July, and August typically being the stormiest months of the year. It's also within those three months that Florida is typically hit by a hurricane at least once every year, with South Florida and the coastlines being the most vulnerable to hurricane damage.
With Florida being hurricane-prone every year, it makes sense that Florida homes should be built to withstand damage from such storms, right? Well, that is definitely true today, but this wasn't always the case. It actually took the onslaught of Hurricane Andrew in 1992 for the Florida Building Codes to be revised with the new building standards that took effect in 2001. While every home built after 2001 is now compliant with the new building standards, this isn't true of homes that were built prior to 2001. As such, not every Florida home is fastened with all the materials that are now used in today's constructions.
Luckily for homeowners residing in Florida homes built prior to 2001, the homes can still be retrofitted with new connectors so that they meet the standards of today's constructions. One type of connector older homes can be retrofitted with to make them hurricane-resistant is known as hurricane clips. These clips are also known by many other names, such as "hurricane anchors", "hurricane brackets", "hurricane straps", "hurricane strips", and "hurricane ties."
What Are Hurricane Clips?
Hurricane clips are steel connectors that secure a home's wooden framework and hold it together. Hurricane clips are also the steel connectors that securely attach the roof to the home's walls. This is what prevents the roof from flying off during a category 5 hurricane, which can have winds of up to 156 mph. Since steel is a highly durable metal, hurricane clips provide the best wind resistance, especially from upward pressure as hurricane-force winds hit the walls of the home.
Are There Different Types of Hurricane Clips?
As with any building material, there are many different types of hurricane clips and straps with different functions to offer maximum protection against storm destruction. Multipurpose straps, for example, are used throughout the home to secure the floors, walls and roofs built out of timber. Similarly, timber connectors secure floor and wall plates, beams, rafters, studs and purlins. There are also rafter connectors and clips, purlin braces and clips, and moment connectors. In addition to those are also truss anchors for securing concrete beams to rafters and twist ties for connecting more wood.
How Much Does it Cost to Retrofit Older Homes with Hurricane Clips?
Retrofitting an older home with hurricane clips is pretty inexpensive and can be done without renovating the home. As such, the price of installing hurricane clips can range from just over $800 to less than $1500. While budget is obviously something to consider for owners of older Florida homes, it is still worth having hurricane clips installed. Not only do hurricane clips offer maximum protection against the onslaught of tropical storms when they hit, but they go a long way to saving homeowners money on home insurance premiums by as much as 20-50%.
To learn more about how Taylor Builders can retrofit your older home with hurricane clips, please see our services page or contact us.